Letter-Winged Kite Biography
In some ways Letter-winged Kites appear rather like owls. Because much of their hunting activity occurs in the twilight, they have large eyes which allow them to see in the half-light, imparting an owl-like appearance. They mostly eat Long-tailed Rats, which breed in large numbers during wet seasons in the inland, and this allows Letter-winged Kites to also breed up. However, when dry conditions return and the rat population declines, the kites are forced to disperse in search of food, when they may occur near the coast.
The Letter-winged Kite is a small to medium-sized raptor (bird of prey). It has a white head, tail and underparts, and is mostly pale grey above. The female bird has a greyer crown. A distinctive black 'W' shape across the underside of its long, broad white wings gives the bird its name. When perching, it has an obvious black shoulder patch. Its large eyes, which are a bright red, are surrounded by black eye-patches, giving it an owl-like appearance. The legs are flesh-coloured.
The Letter-winged Kite is very similar to the Black-shouldered Kite,
E. axillarus
, but has a slower, deeper wing beat when flying. The Letter-winged Kite has the black under-wing 'W' pattern, and lacks the black wing tips of the Black-shouldered Kite. The Black-shouldered Kite is often seen hovering in the daytime, while the Letter-winged Kite is a nocturnal hunter.
The Letter-winged Kite is an endemic species, found in the arid inland regions of western Queensland, northern South Australia and the south of Northern Territory. However it is an irruptive species (has sudden population increases), dispersing to the coast when food is plentiful and there are rat or mouse plagues.
The Letter-winged Kite is a bird of open country and grasslands in arid and semi-arid Australia, where there are tree-lined streams or water courses. When food is plentiful, the species irrupts and birds may disperse to higher rainfall coastal regions. This kite roosts by day in the high canopy of leafy trees and is the only member of its family that hunts at night.
The Letter-winged Kite is a nocturnal hunter, pouncing on small rodents and marsupials. Its main prey is the Long-haired Rat.
The Letter-winged Kite is an opportunistic breeder. This means that the timing of breeding is variable and may be extended in good seasons. The kites may breed in colonies, from 2 to 100 pairs when conditions are right and food is plentiful. The female mainly incubates, broods and cares for the young, while the male brings food for his mate and the nestlings. If food becomes scarce, the nest and young may be abandoned. The nest is well hidden and made of small sticks and twigs, lined with leaves and often rat fur or regurgitated pellets.
Letter-Winged Kite
Letter-Winged Kite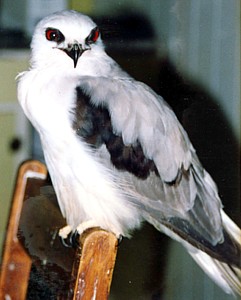 Letter-Winged Kite
Letter-Winged Kite
Letter-Winged Kite
Letter-Winged Kite
Letter-Winged Kite
Letter-Winged Kite
Letter-Winged Kite
Letter-Winged Kite
Black Shouldered Kite