Fairy Martin Biography
The Fairy Martin is sometimes called the Bottle Swallow, because its nest, made from tiny pellets of mud or clay, is bottle shaped. The nests are often placed in colonies in in culverts or under bridges, and are only seldom located on natural features such as cliff faces or the banks of watercourses. The entrance to each nest is via the horizontal spout. These mud-nests are occasionally occupied by Tree Martins or Welcome Swallows, and sometimes usurped by House Sparrows and, rarely, Common Starlings.
The Fairy Martin is a small bird, with dark wings, a white underbody and a pinkish-red head. The short, slightly forked tail appears square in flight. It is gregarious, feeding in large flocks and nesting in colonies.
The related Tree Martin,
H. nigricans
, has a black head and a 'dirty' white rump. Martins are generally smaller and 'dumpier' than swallows, and have a shorter, squared rather than forked tail in flight.
The Fairy Martin prefers open country near water, and is usually seen near its nest sites, in cliffs, culverts or bridges.
The Fairy Martin is found across
Australia
.
The Fairy Martin feeds high in the air on flying insects, usually in large flocks. A colonial nester, the Fairy Martin builds bottle-shaped mudnests that are packed closely together on the ceilings of caves, and under bridges or other similar structures. Both sexes build the nest and share incubation and care of the young.
Fairy Martin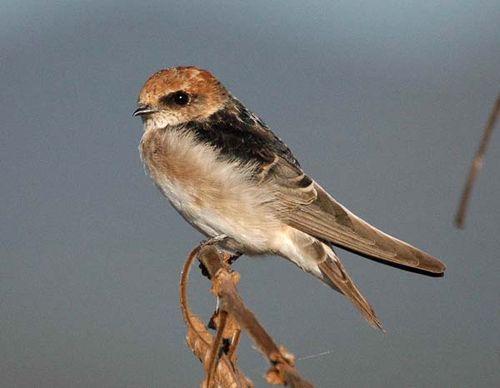 Fairy Martin
Fairy Martin
Fairy Martin
Fairy Martin
Fairy Martin
Fairy Martin
Fairy Martin
Fairy Martin
Fairy Martins digging for mud(again)
Ptaki Australii : Hirundo airel 03