Common Myna Biography
The Common Myna is brown with a black head. It has a yellow bill, legs and bare eye skin. In flight it shows large white wing patches. The Common Myna is a member of the starling family and is also known as the Indian Myna or Indian Mynah.
The Common Myna is sometimes confused with the slightly larger (24 cm - 29 cm) Noisy Miner, Manorina melanocephala. Although both species have similar common names, the Noisy Miner is actually a native honeyeater. Both have yellow bills, legs and bare eye skin, but the Common Myna is brown with a black head and in flight it shows large white wing patches. The Noisy Miner is mostly grey.
The Common Myna is found along the east and south-east coasts of Australia. Introduced at Melbourne from south-east Asia between 1862 and 1872, it established quickly, with several other introductions occurring until the 1950's.
The Common Myna is closely associated with human habitation. In the evening, large groups of Common Mynas gather in communal roosts, mainly in the non-breeding season, in roof voids, bridges, and large trees, and numbers can reach up to several thousands.
Common Mynas are accomplished scavengers, feeding on almost anything, including insects, fruits and vegetables, scraps, pets' food and even fledgling sparrows.
Common Mynas mate for life. During the breeding season there is usually considerable competition for nesting sites. Favoured locations are in the walls and ceilings of buildings, making these birds a nuisance to humans.
Nests are also placed in tree hollows, which are used by native birds. Nests are quite messy and consist of a variety of materials. Leaves, grasses, feathers and assorted items of rubbish are common materials.
Violent battles often erupt between occupants of nesting sites and the couple that wish to evict them. Each partner grapples with its opposite number and contestants drop to the ground secured in each other's claws. Bills are jabbed ruthlessly at the opponent. Finally, the defeated couple leaves to search for another site.
Common Myna
Common Myna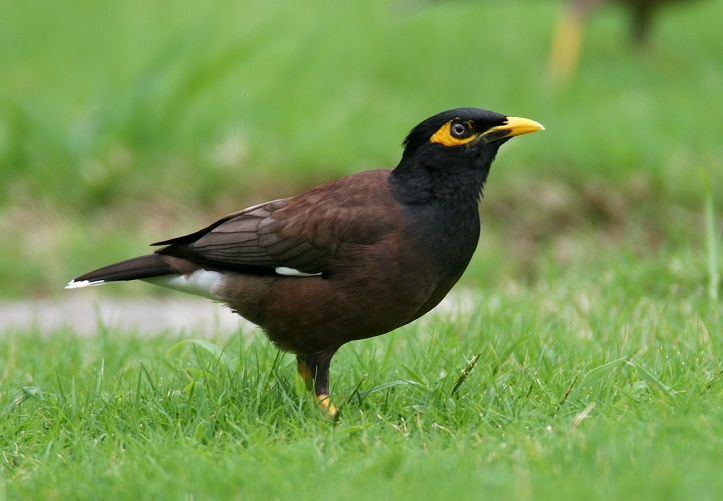 Common Myna
Common Myna
Common Myna
Common Myna
Common Myna
Common Myna
Common Myna
Talking To A Common Myna Bird
Bird Talk