Brush Bronzewing Biography
Although Brush Bronzewings often build their flimsy stick-nests in horizontal or vertical forks in the branches of shrubs, or sometimes on the ground beneath the cover of dense bushes, they occasionally build them on top of the disused nests Common Blackbirds, Little Wattlebirds, Nankeen Night-Herons and even on old dreys of small possums. The two glossy white or pinkish eggs are incubated by both sexes, and after hatching, the young birds remain with their parents until the next clutch of eggs is laid.
The Brush Bronzewing is a dark olive-brown above with rich chestnut nape and shoulders, with blue-grey underparts. There are two curved bronze irridescent blue-green bars across each wing. A dark, chestnut stripe through eyes, underlined by white and a chestnut throat patch are distinguishing features. The male has a chestnut forehead. The female lacks the forehead patch and is generally duller.
This species occurs around the coast from Fraser Island and adjacent mainland Qld, round to the Eyre Peninsula in SA, although absent just north of the NSW border and at the top of the Spencer Gulf in SA. A geographically separate population occupies the southwest corner of WA, and the species also occurs in Tasmania and coastal islands.
These birds feed exclusively on the ground on seeds of various plants. They are most commonly seen as singles or pairs, with flocking being a rarely-reported occurrence and then only of less than 10 birds at a time. They drink at dawn or dusk, alighting some distance from the water then cautiously making their way to the edge to drink.
While October to January is the most likely time to find nests, these fragile, slightly cupped platforms of twigs and sticks have been found with eggs or chicks in every month. The female builds the nest on the ground or in trees but more commonly in dense brush. Once the two eggs are laid, the female incubates during the day. Little is known about wild birds, but those in captivity sit for 15-18 days before the chicks hatch. The chicks fledge at about 16 days and the young remain with their parents until they nest again, which can be as little as 3 to 4 weeks later.
Brush Bronzewing
Brush Bronzewing
Brush Bronzewing
Brush Bronzewing
Brush Bronzewing
Brush Bronzewing
Brush Bronzewing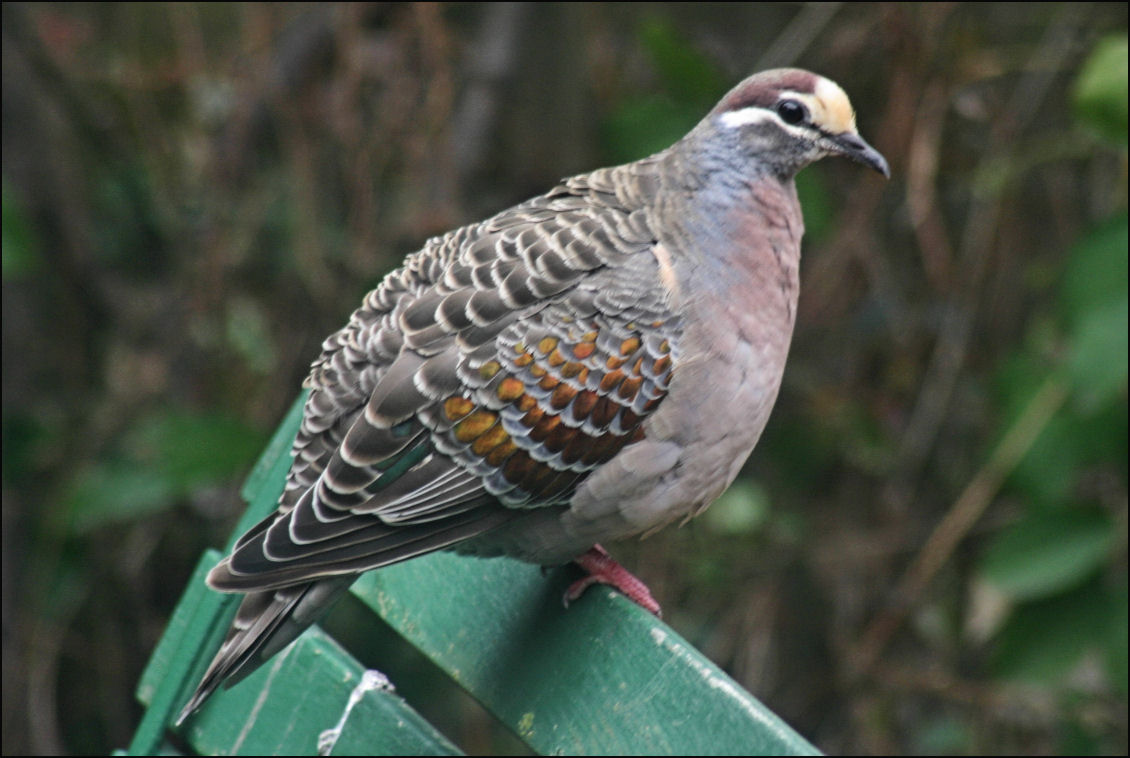 Brush Bronzewing
Brush Bronzewing
Brush Bronzewing(Phaps elegans)
Common Bronzewing